3DIEMME Helpdesk

---
Visti di recente
Logout
General Issues/ Generale
Sales/ Commerciale
Technical/ Problemi tecnici
How can I export/import custom sleeves and analogs saved in RealGUIDE?
To export custom sleeves and analogs files, please follow these steps:
Open RealGUIDE, access the Settings and click on Show settings folder;
The settings folder contains sleeves and analogs files, highlighted in red in the following image: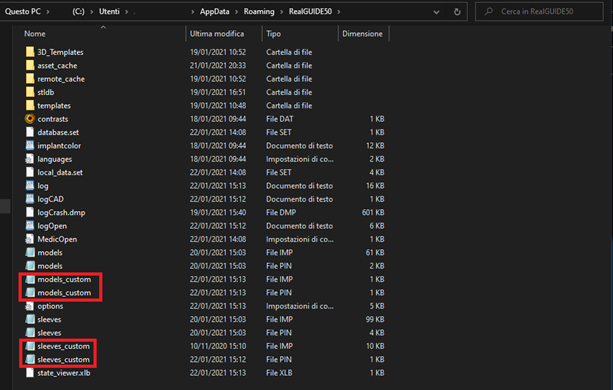 Copy the files you want to export from RealGUIDE in a different folder.
It is possible to import these files on a second device with RealGUIDE installed. You can move these files with an USB key (external hard disk or e-mail, etc.).
To Import these files you have to repeat the first steps above to access RealGUIDE Settings folder and copy the needed files.
The same steps are useful to save a backup copy of your custom settings in case you want to uninstall the software.